The nationwide initiative to cook #67000litres of soup for Mandela Day is still on despite the unrest gripping Durban and Gauteng. 
The 67 000litres for Mandela Day initiative was launched by Chefs with Compassion, a volunteer-based food rescue organisation, in 2020, when over 310 000 people received a hot meal in 10 cities around South Africa on Mandela Day. This year, the challenge has been set once again and is open to home cooks everywhere to participate and donate their lovingly cooked soup to a beneficiary in their immediate area. While the challenge will not be possible in Durban due to the riots, Chefs with Compassion remains resolute in their determination that the challenge will go ahead.
"We started Chefs with Compassion to meet the drastic increase in need that resulted from lockdown. Today the need is greater than ever. The communities we serve around Joburg on a daily basis are desperate for us to continue on Mandela Day and we are duty-bound to do so," says Caroline McCann, one of the Chefs with Compassion's founding members.
The chances of reaching the target of 67 000 litres have been significantly compromised and Chefs with Compassion is calling on every South African to take up the challenge. This is due to Durban falling away due to the unrest and COVID cases reducing the production of soup from one of the largest kitchens in Joburg, which had committed to cooking 10 000 litres.
"This year's #67000litres Challenge has become about more than the need to feed people in honour of Madiba. It's become about the indomitable spirit of South Africans everywhere. Now, as never before, we need to step up to meet Mandela's call to take small actions every day. We are called upon to make every day Mandela Day, and that is the philosophy that has driven Chefs with Compassion from the very beginning. We will not halt our operations, on Mandela Day or any other day, unless we are compelled to do. Thousands of men, women and children are relying us for their only meal in a day," says Caroline.
Support from home cooks across the country has been pouring in since the initiative launched a little over a month ago. Hundreds of caring South Africans will be donning their aprons, clearing out their pantries and cooking a nutritious soup on Sunday. Taking action in the spirit of Madiba and helping to raise awareness of the fact that 10 million tonnes of food go to waste every year.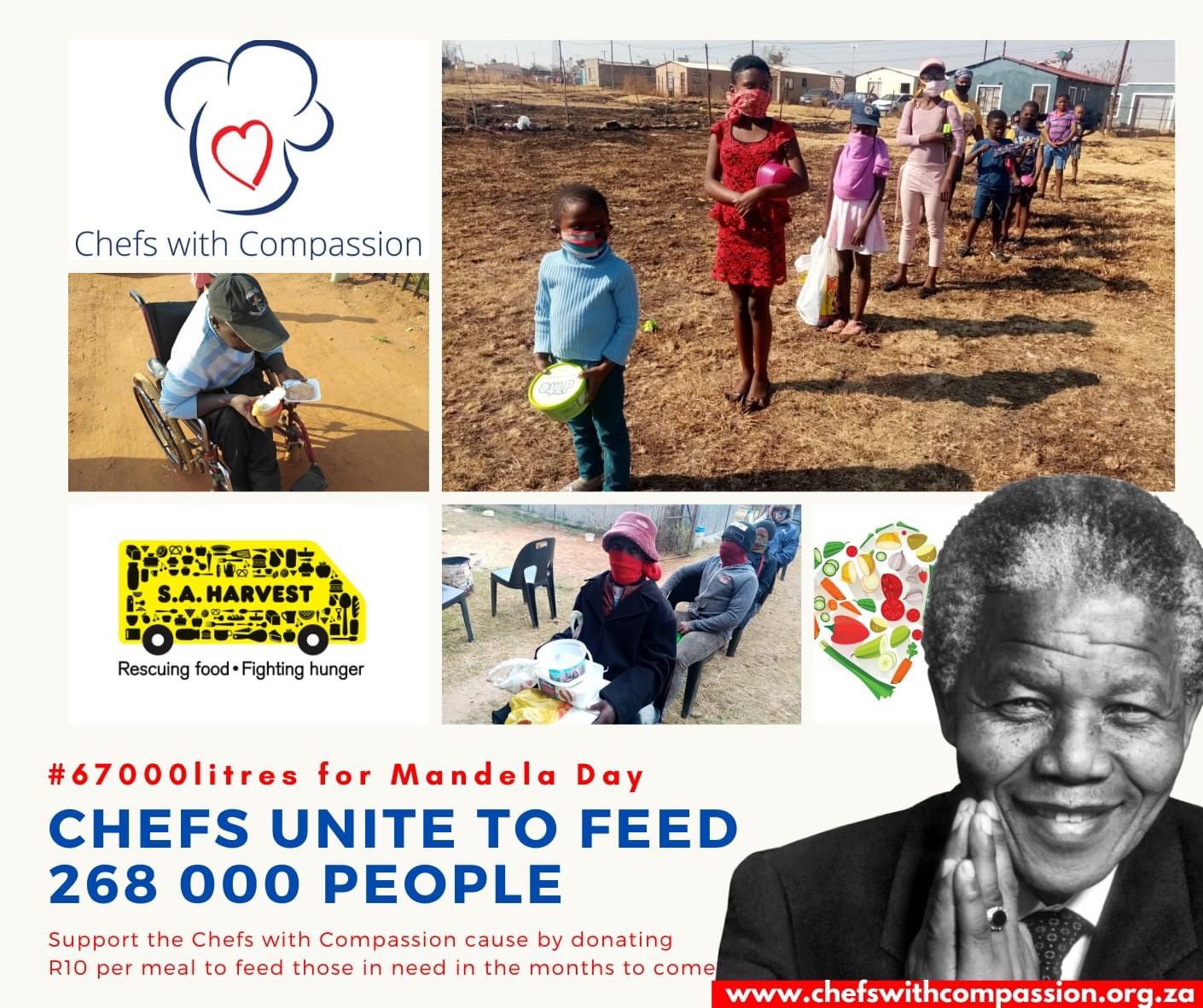 The #67000litres Challenge has taken a hyperlocal approach in response to South Africa being on Level Four lockdown. "Understandably, and in keeping with regulations, people are staying at home so we wanted to give every South African the opportunity to do something for Mandela Day. The #67000litre challenge allows you to cook safely in the comfort of your own kitchen, and to choose a beneficiary in your immediate community. No amount is too big or too small. Every litre counts – because every litre fills four hungry tummies," says Coo Pillay, national project manager of Chefs with Compassion.
The need has increased to such a degree as a result of riots and looting that some participants who had already started cooking have begun handing over their cooked soup to organisations to distribute immediately, rather than freezing and distributing on Mandela Day. The Protea Hotel by Marriott OR Tambo had committed 2 000 litres and this morning handed over the first 400 litres to MES Kempton Park to meet the drastic need in the city centre and has already committed to continue cooking, which far exceed the original commitment. The team at the hotel says that with the current challenges facing our communities, the greater mission is to feed people who have become vulnerable and destitute overnight. The Marriott International group is participating in the challenge through five of their hotels around the country, contributing 5000 litres to the total tally.
Cities confirmed to participate in the #67000litres challenge so far are:
Johannesburg
Pretoria
Mokopane
Nelspruit
Rustenburg
Durban
Cape Town
Gqeberha
Port Alfred
East London
Bloemfontein
Based on current commitments, 58 256 litres of soup will be cooked by Mandela Day, leaving a shortfall of 8 744 litres. "We are around 87% of the way towards meeting our target, but because of the uncertain environment in which we find ourselves, we estimate that we will need commitment of another 40 000 litres if we are to reach 67 000 litres on Mandela Day. And while we talk about a target in litres, the real impact will be felt by the 268 000 people who will receive a meal come Mandela Day," says Arnold Tanzer, chairman of Chefs with Compassion.
Chefs with Compassion is a volunteer-based food rescue organisation that was founded in May last year in response to the massive increase in hunger. To date, Chefs with Compassion has served over 1,8 million meals, entirely through rescuing produce that would have gone to waste and cooking by chefs and community caterers.
To register, go to Chefs with Compassion and follow the story on their Facebook page @chefswithcompassion. 
#67000litres by numbers
Target: 67 000 litres
Targeted number of people to receive a meal: 268 000
Total number of litres committed to target: 58 256 litres
Number of provinces participating: 9
Number of home cooks: 103
Number of hotels: 10 hotels
Number of restaurants: 15
Number of corporates: 9
Number of culinary school: 12
Largest number of litres by one participant: 10 000 litres
Smallest number of litres by one participant: 1 litre